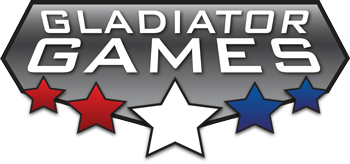 Twice a year (spring & fall) Gladiator Games takes over Wednesday nights in Connect HSM!
What is Gladiator Games?
Here's how it works:
• 2 teams – RED vs BLUE
• Each Wednesday, the teams will compete against each other in 2 or 3 events for points
• Points are tallied every week for 10 weeks
• On the last week, we will have a celebration night with a highlight video and we announce the winner
• The winning team will get an Official Gladiator Games Champions T-Shirt and serious bragging rights
Other Ways To Earn Points
Points can be earned by your team winning an event, but there are a few other ways you can help your team.
• Bring your friends!
– Each new visitor you bring will earn 2,000 points for your team.
• Bring the noise!
– Energy, excitement and participation are always rewarded
• Have a great attitude!
– Of course you should be competitive and cheer on your team, but having a great attitude to create a fun inviting atmosphere is the most important!

Frequently Asked Questions:
What team am I on?
– Regular attenders of Connect Youth & those who have pre-registered online will be drafted onto a team automatically. If you come to Gladiator Games with a friend, you get to be on their team with them.
What kinds of events?
– All kinds. From things as simple as Minute to Win It style games, to Tug-of-War or Dodge Ball as well as things like Human Foosball or Pool Noodle Hockey. Not everything will be sports related though. There will be all kinds of challenges on all different levels.s.
What is a typical Wednesday Night going to be like?
4:30pm – 6:30pm : Connect Church will be open to hangout and/or do homework
6:30pm – 7:45pm : Gladiator Games Events
7:50pm – 8:00pm : High-Energy Worship and the PLUG-IN Challenge
8:00pm – 8:30pm : Food / Time to hangout